E9 Jan Andrews & Jennifer Cayley: What Are You Longing For?
1 year ago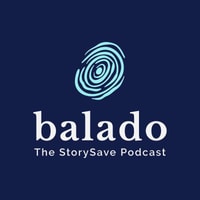 Episode Notes
When Jan Andrews died in September 2017, storytelling lost an enormous talent and champion. Widely-recognized as a storyteller who touched her audiences with the depth and power of her work, Jan was a committed member of the Canadian storytelling community.
In this special episode of Balado: The StorySave Podcast, producer Marion Gruner visits Jan's partner, Jennifer Cayley at her and Jan's beautiful lakeside property, to talk about Jan, her life and work, and the folktales she loved which we can all learn something from.
As part of the 20th anniversary celebrations of the StorySave Program that Jan founded, StorySave is also sharing a re-issued album of folktales recorded by Jan in the 1990's. Tales of Courage and Kindness is available now, on Bandcamp.
This episode was produced by StorySave Program Manager and Producer, Marion Gruner
About Jan Andrews Jan Andrews was an extraordinary teller and author, and StorySave was lucky to have recorded two albums of her work. Written in the Body in 2016, and Two Women of the Odyssey in 2014.
Acclaimed for her powerful telling, Jan traveled extensively, telling stories at festivals and in concerts across Canada, in Australia, the United Kingdom and the United States. A committed member of the Canadian storytelling community, she was one of the first presidents of Storytellers of Canada-Conteurs du Canada and founded the organization's StorySave project. In 2017 she was appointed to the Order of Canada "for her contributions to Canadian culture as a children's book author and as a pioneer of Canada's storytelling movement."
Jan told everything from folktales to literary stories, from epic to personal tales. She was also the author of classic books for young people. Always a groundbreaker, she was the first Storyteller/Writer in Residence at the Centre for Creative Writing and Oral Culture at the University of Manitoba.
When the Wind Came, one of Jan's last storybooks, was posthumously published this year by Kids Can Press. You can find it at Indigo, Amazon and many other retailers.
About Jennifer Cayley Jennifer Cayley has been a performance storyteller for more than three decades. While her repertoire includes literary, historical and personal stories, it is the traditional folk and fairy tales along with some of the world's great epics that are the foundation of her work. She was, along with Jan Andrews, a co-founder of MASC where she is now thrilled to be on the artists' roster. She has worked on the Ontario Arts Council's Artists in Education roster, with Prologue to the Performing Arts, and the TD Canada Trust Canadian Children's Book Week Tour.
Jennifer has toured with Jan Andrews to Rome, Australia, Wales, USA and southern Ontario; appearing at festivals across Canada and in Hawaii, and has made regular appearances at the Ottawa Storytellers' Signature Series, telling some of the great epics of the world at Rasputin's Café, the National Arts Centre and best of all on the shores of Taylor Lake in Lanark Co.
Find out more at https://balado-the-storysave-podcast.pinecast.co